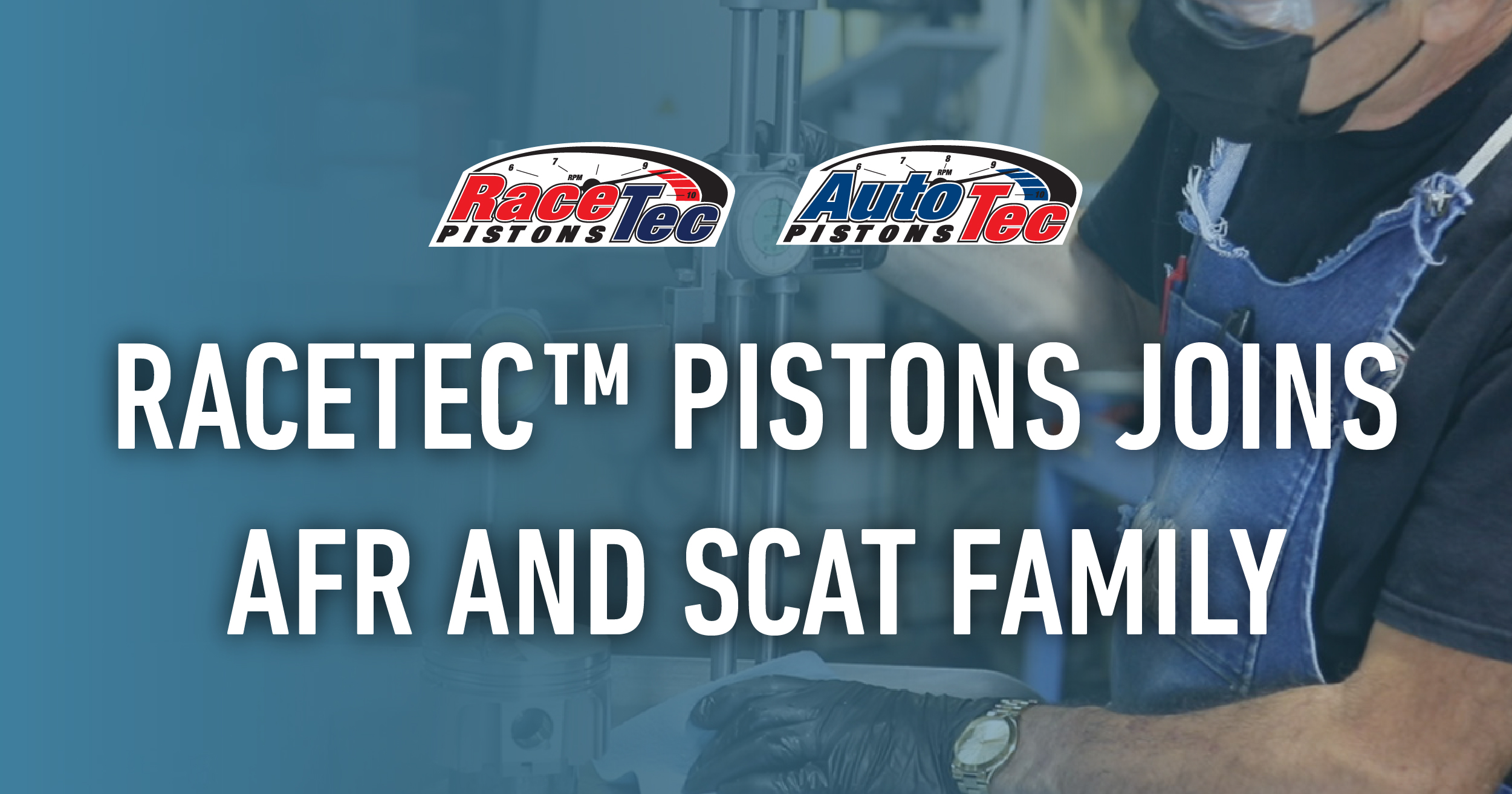 RaceTec™ Pistons joins the AFR, SCAT Crankshafts and Procar by SCAT family of companies.
RaceTec™ Pistons was founded in 2007 by Wayne Brooks, who was completing his second venture into the piston manufacturing industry and the automotive aftermarket. Wayne, a former owner of JE Pistons, was instrumental in helping them grow into one of the industry's leaders in forged pistons.
Today, RaceTec Pistons are designed and engineered by true piston experts — experts who understand the intricate and complex automotive aftermarket industry and high-performance engine applications. RaceTec Pistons are designed and machined in-house, allowing for complete control over every step of the piston-making process. As in racing, the goal is always to have a better mouse trap; RaceTec Pistons continues to evolve their manufacturing processes and offer industry-leading forged pistons for street and race enthusiasts alike.
Jeremy Gillum, Vice President of RaceTec™ Pistons, will remain involved in the business going forward and RaceTec's management team will remain in place along with its production facility and employees, located at its headquarters in Huntington Beach, CA.
ABOUT TAGLICH PRIVATE EQUITY
Taglich Private Equity is a financial sponsor which has been investing since 2001 in lower middle market manufacturing, business service and consumer product companies. Taglich has completed transactions totaling over $650 million funded primarily with capital provided by Taglich Brothers, Inc., a full-service brokerage firm managing capital in both public and private investments. Taglich focuses on finding sound investment opportunities with capable management and delivering significant growth resources and capital to portfolio investments. For more information on Taglich Private Equity LLC please visit www.taglichpe.com.
ABOUT FUNDING
Financing for the transaction was arranged by Taglich Private Equity with equity provided by Taglich and Farragut Capital Partners, who also provided subordinated debt. Byline Bank provided the senior debt financing. Dentons Durham Jones Pinegar acted as legal advisor and Moss Adams acted as due diligence advisor to Taglich.
MESSAGE FROM LEADERSHIP
"RaceTec™ Pistons has a fantastic brand, strong team, and an impressive legacy, which we are fortunate to add to our company. I am thrilled about the opportunity to work with and learn from Jeremy and the rest of the team." — Shawn Sterling CEO
"We continue to be very interested in exploring additional add-on acquisition opportunities in the high-performance automotive aftermarket to accelerate growth and build upon our product offerings." — Will Morris Managing Director, Taglich Private Equity
ABOUT RACETEC PISTONS
RaceTec™ Pistons has held a dominant position in the performance automotive aftermarket since its inception. The company's commitment to excellence has earned its products a place among the fastest boats, race cars, and the best engine builders in the country.
For over 50 years, SCAT Enterprises has offered a wide range of products under the SCAT Crankshafts and Procar by SCAT brands. In addition to a comprehensive line of crankshaft options, the brand offers high-quality connecting rods and rotating assemblies for a wide variety of applications, including Small and Big Block Chevy, Chevy LS, Small and Big Block Ford, Ford Modular, Vintage Ford, Small and Big Block Chrysler, Modern Hemi, Pontiac, Sport Compact, Motorcycle and Industrial. Additionally, SCAT Crankshafts can make a crankshaft from a raw billet to a finished crankshaft in its Redondo Beach, California, manufacturing facility.
Procar by SCAT, founded in 1980, offers stylish, comfortable aftermarket seats at an affordable price. Clean, classic lines are the hallmark of a Procar seat, which complements any auto – including street rod, cruiser, pony car, muscle car, off-road buggy, truck, or sport compact. Procar seats are easy to install with custom mounting brackets available for over 3,000 applications. The all-steel, TIG-welded frames are coated for ultimate strength and durability, while premium-grade fabrics and stitching will stand the test of time. Each Procar seat is built for style and most importantly, optimal comfort.
For more information visit scatcrankshafts.com/ and procarbyscat.com
For over 45 years, Air Flow Research has been defining technological leadership in cylinder head manufacturing and flow dynamics. This complete commitment to performance has enabled Air Flow Research's cylinder heads to find themselves on the fastest race cars and the most powerful street machines in the country. As every engine builder will attest to, the secret to increasing horsepower and performance lies in the cylinder head. Air Flow Research's cylinder heads outflow and out horsepower everything in their league.
For more information, visit airflowresearch.com