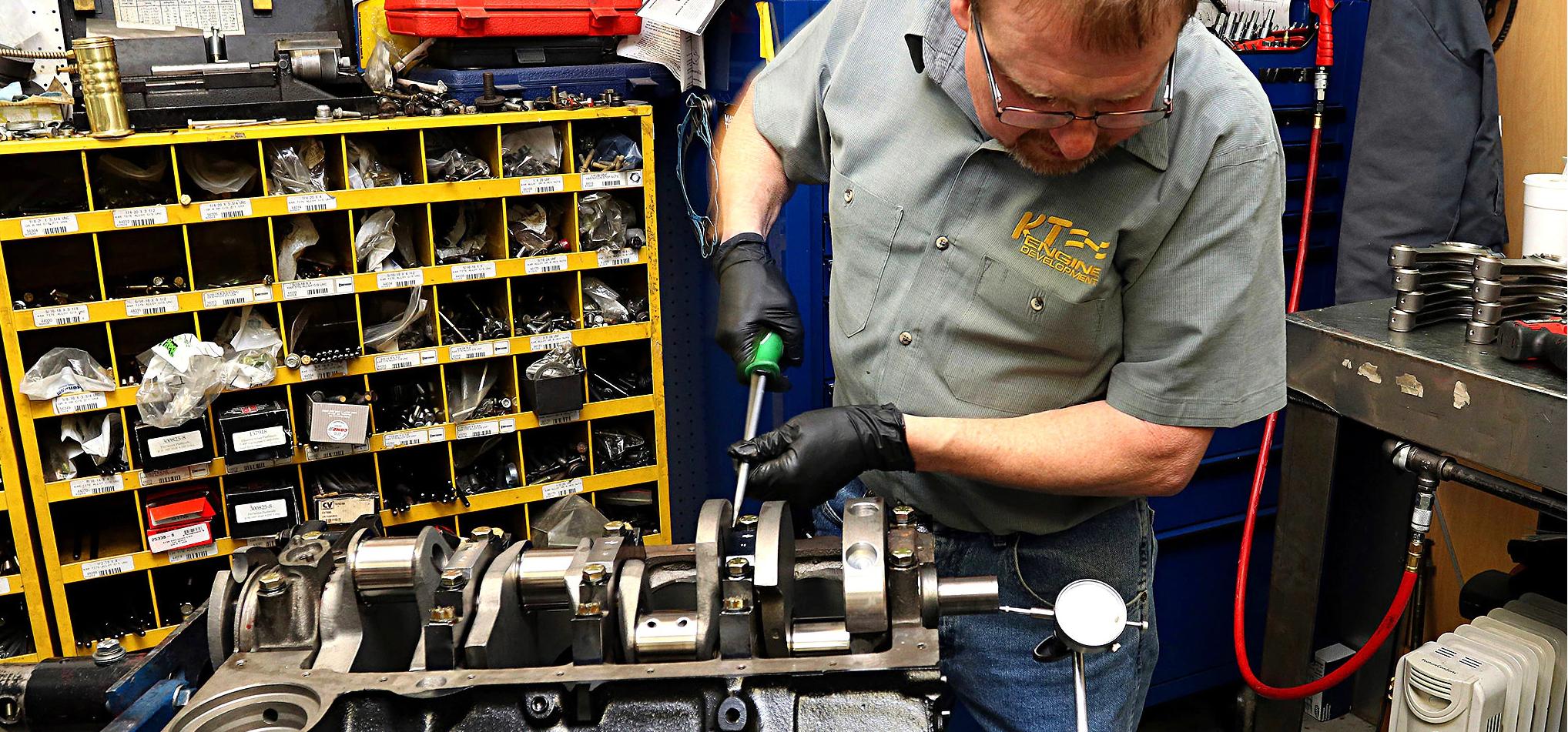 ---
From the Super Chevy article:
These days it certainly seems like LS engines are the most popular option when it comes to engine swaps. And there's no doubt the LS has its advantages. But sometimes a particular car just requires something a little more old school.

That's certainly the case with Dana Hoodenpyle's 1968 Camaro. Hoodenpyle says he purchased this bright-orange convertible sight unseen, and has never regretted it. It's a numbers-matching car, so while he would like more horsepower to help get the adrenaline flowing when he's behind the wheel, he also wants to keep the original look and feel to the car. And he definitely doesn't want to go cutting up the car such that it can't be returned to its all-original form later on.

So the obvious solution was to pull the original engine and set it aside, then build a new, more powerful small-block that can drop right in its place. What's cool about the Chevy small-block is it has been so well supported by the aftermarket industry that you can build an all-new small-block completely out of a catalog and make great power on a real-world budget. Even though GM hasn't installed a first-gen small-block Chevrolet engine in any vehicle in years, every single part is still available from one aftermarket manufacturer or another. The SBC is still very much alive and well.

For this particular build, Hoodenpyle had an OEM iron block from the same era as the Camaro so he chose to use that so that it would be "numbers-correct," if not numbers-matching. To help hold the extra power he hoped to make, engine builder KT Engine Development in Concord, North Carolina, machined the block to accept four-bolt main caps. Hoodenpyle also chose most of the components used in the build, although KT Engine did help with spec'ing out the camshaft and valvetrain, the intake manifold, and the cylinder heads.
The build uses one of our forged steel crankshafts and forged connecting rods. Check out gallery of the Chevy 383 stroker build below:
For over 50 years SCAT Enterprises has offered a wide range of products under the SCAT Crankshafts and Procar by SCAT brands. In addition to a comprehensive line of crankshaft options, the brand offers high-quality connecting rods and rotating assemblies for a wide variety of applications, including Small and Big Block Chevy, Chevy LS, Small and Big Block Ford, Ford Modular, Vintage Ford, Small and Big Block Chrysler, Modern Hemi, Pontiac, Sport Compact, Motorcycle and Industrial. Additionally, SCAT Crankshafts can make a crankshaft from a raw billet to a finished crankshaft in its Redondo Beach, California, manufacturing facility.
Procar by SCAT, founded in 1980, offers stylish, comfortable aftermarket seats at an affordable price. Clean, classic lines are the hallmark of a Procar seat, which complements any auto – including street rod, cruiser, pony car, muscle car, off-road buggy, truck, or sport compact. Procar seats are easy to install with custom mounting brackets available for over 3,000 applications. The all-steel, TIG-welded frames are coated for ultimate strength and durability, while premium-grade fabrics and stitching will stand the test of time. Each Procar seat is built for style and most importantly, optimal comfort.
For more information visit scatcrankshafts.com and procarbyscat.com