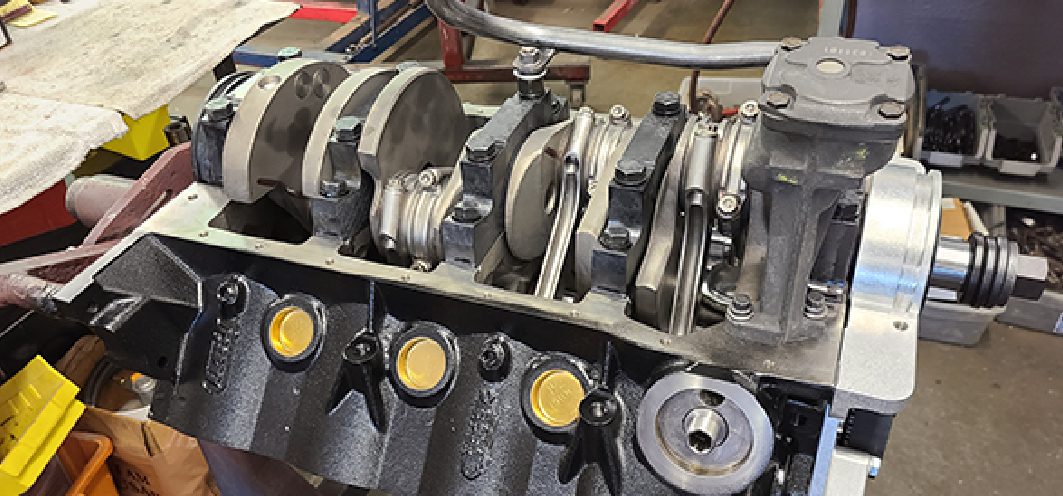 Engine Builder shared this 427 small block Ford nitrous engine that was built for a 1965 Ford Falcon bracket car that belongs to a customer of Brian Hafliger.
---
A customer came to IMM Engines seeking an engine that could run 5-second 1/8th-mile times and build to 650 horsepower. Shop owner Brian Hafliger got to work on this ride with a Dart SHP block built out to 427 cubic inches with a SCAT crank and H-Beam rods, CP pistons and Trick Flow cylinder heads.
Here's what Hafliger had to say:
We used a SCAT 4340 crank with a 4.000˝ stroke that was internally balanced, as well as SCAT H-beam rods with ARP 2000 bolts. Most of the SCAT stuff will handle 1,200 horsepower and we're below that. I've used their stuff a lot and I've never had a problem with it.
Hafliger delivered a 427 small block Ford capable of nearly 700 hp N/A and 1,000 hp on nitrous.
About SCAT Enterprises
For over 50 years, SCAT Enterprises has offered a wide range of products under the SCAT Crankshafts and Procar by SCAT brands. In addition to a comprehensive line of crankshaft options, the brand offers high-quality connecting rods and rotating assemblies for a wide variety of applications, including Small and Big Block Chevy, Chevy LS, Small and Big Block Ford, Ford Modular, Vintage Ford, Small and Big Block Chrysler, Modern Hemi, Pontiac, Sport Compact, Motorcycle and Industrial. Additionally, SCAT Crankshafts can make a crankshaft from a raw billet to a finished crankshaft in its Redondo Beach, California, manufacturing facility.
Procar by SCAT, founded in 1980, offers stylish, comfortable aftermarket seats at an affordable price. Clean, classic lines are the hallmark of a Procar seat, which complements any auto – including street rod, cruiser, pony car, muscle car, off-road buggy, truck, or sport compact. Procar seats are easy to install with custom mounting brackets available for over 3,000 applications. The all-steel, TIG-welded frames are coated for ultimate strength and durability, while premium-grade fabrics and stitching will stand the test of time. Each Procar seat is built for style and most importantly, optimal comfort.
For more information visit www.scatcrankshafts.com/2022 and www.procarbyscat.com