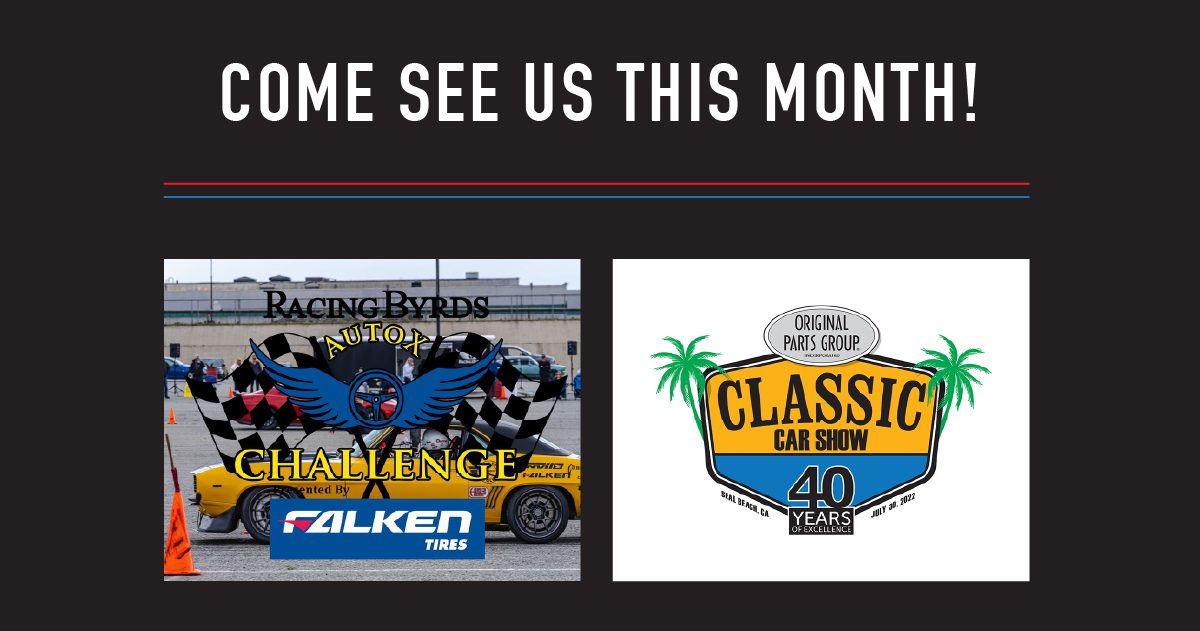 If you're looking for sun, fun and speed this summer, we encourage you to check out these exciting automotive events in California this month!
---
Air Flow Research, Procar by SCAT and SCAT Crankshafts will have booths at the AutoX Challenge and OPGI Classic Car Show this month. Stop by to chat with our experienced reps and browse the three brands' newest products!
July 16 – 17, 2022 AutoX Challenge Fontana, California The RacingByrds AutoX Challenge presented by Falken Tire will take place at the Auto Club Speedway in Fontana, California. This 2-day event is designed to provide you with fun competition, a lot of runs, and something a little different. In the spirit of "Run what you Brung", racers are welcome to race any vehicle as long as it is street legal with valid registration, insurance, and 200 tread-wear tires. Compact, Modern, Classic, Sports Car, and the new "F" Class will be featured ("F" is for FUN, First Timers and Fairly new drivers in Fairly Stock cars). For more information, visit RacingByrds website.
July 30, 2022 OPGI Classic Car Show Seal Beach, California  Stop by the OPGI Classic Car Show in Seal Beach, California! In addition to seeing all of the incredible cars on display, there will be food trucks, music and awards. The OPGI Classic Car Show is open to all GM models (1988 and older), and free for all spectators. For more information, visit OPGI's website.
About SCAT Enterprises
For over 50 years, SCAT Enterprises has offered a wide range of products under the SCAT Crankshafts and Procar by SCAT brands. In addition to a comprehensive line of crankshaft options, the brand offers high-quality connecting rods and rotating assemblies for a wide variety of applications, including Small and Big Block Chevy, Chevy LS, Small and Big Block Ford, Ford Modular, Vintage Ford, Small and Big Block Chrysler, Modern Hemi, Pontiac, Sport Compact, Motorcycle and Industrial. Additionally, SCAT Crankshafts can make a crankshaft from a raw billet to a finished crankshaft in its Redondo Beach, California, manufacturing facility.
Procar by SCAT, founded in 1980, offers stylish, comfortable aftermarket seats at an affordable price. Clean, classic lines are the hallmark of a Procar seat, which complements any auto – including street rod, cruiser, pony car, muscle car, off-road buggy, truck, or sport compact. Procar seats are easy to install with custom mounting brackets available for over 3,000 applications. The all-steel, TIG-welded frames are coated for ultimate strength and durability, while premium-grade fabrics and stitching will stand the test of time. Each Procar seat is built for style and most importantly, optimal comfort.
For more information visit www.scatcrankshafts.com/2022 and www.procarbyscat.com