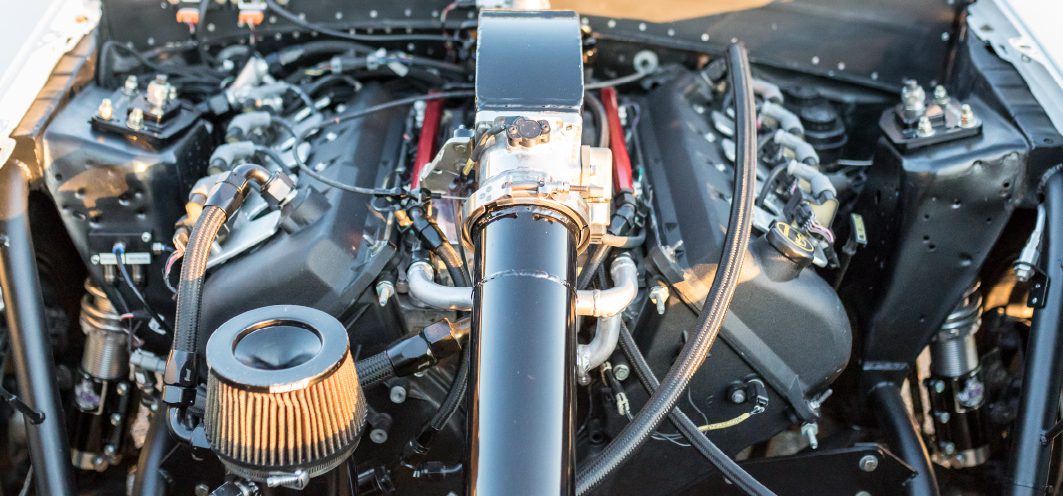 Ford Muscle shared Ultra Street racer Darrel Merryman's 1985 Ford Mustang. Merryman reached out to Dave Guy at DGR Performance in Dillsburg, Pennsylvania, to guide him with finishing this build. Then, Ronnie Reynolds at Boosted Fabrication & Performance handled the most recent round of modifications.
---
This 1985 Ford Mustang uses a cast-wheel Precision Turbo 76mm Ultra Street turbocharger in the passenger-side of the nose that feeds the RGR Engines 302ci four-valve modular engine. To build the foundation of the engine, a Ford Racing Boss block, SCAT forged crankshaft, Oliver connecting rods and custom JE pistons were used.
Additionally, a quartet of custom Comp Cams turbo camshafts sit on Cobra C heads, which have been CNC-ported, had new valves and fire rings installed, and been supplemented with GT500 camshaft followers and lash adjusters to maximize durability. The engine wears a stock lower Cobra intake manifold and sheet metal fabricated upper intake.
For over 50 years, SCAT Enterprises has offered a wide range of products under the SCAT Crankshafts and Procar by SCAT brands. In addition to a comprehensive line of crankshaft options, the brand offers high-quality connecting rods and rotating assemblies for a wide variety of applications, including Small and Big Block Chevy, Chevy LS, Small and Big Block Ford, Ford Modular, Vintage Ford, Small and Big Block Chrysler, Modern Hemi, Pontiac, Sport Compact, Motorcycle and Industrial. Additionally, SCAT Crankshafts can make a crankshaft from a raw billet to a finished crankshaft in its Redondo Beach, California, manufacturing facility.
Procar by SCAT, founded in 1980, offers stylish, comfortable aftermarket seats at an affordable price. Clean, classic lines are the hallmark of a Procar seat, which complements any auto – including street rod, cruiser, pony car, muscle car, off-road buggy, truck, or sport compact. Procar seats are easy to install with custom mounting brackets available for over 3,000 applications. The all-steel, TIG-welded frames are coated for ultimate strength and durability, while premium-grade fabrics and stitching will stand the test of time. Each Procar seat is built for style and most importantly, optimal comfort.
For more information visit scatcrankshafts.com and procarbyscat.com